Jolly, Sharpe and Little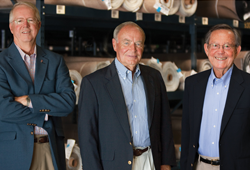 Hear in their own words Jim Jolly and Jack Sharpe discuss the importance of endowments at Covenant College.


Hear Norris Little explain his connection with Covenant and discuss the inspiration behind the Norris and Billie Little Faculty Endowment.

In 1983, a new church was formed in Dalton, Georgia, and three of its members, all executives in the carpet industry, devoted themselves to the work of the church and, soon, of Covenant College.

If you happened to buy carpet made in Dalton, Georgia, you likely bought it from a company largely led by Jim Jolly, Norris Little, or Jack Sharpe. While technically these men were competitors in the business, in 1983 Jolly and Sharpe came together, soon joined by Little, worshipping in a small community that would become Grace Presbyterian Church. Their involvement in forming this new church led to an acquaintance with Covenant College that has lasted decades, greatly benefitting the school, its faculty and student body.

The seeds for Grace Presbyterian were planted when a small number of families from various churches began meeting for midweek Bible studies. "Some were Methodist, Baptist, Episcopal, Presbyterian and so forth," says Sharpe. "All of us at that time were somewhat disenchanted with the churches where we were. We didn't seem to be getting the biblical teachings we needed." Among the Methodists in the group was Jim Jolly, who knew Sharpe from their shared industry.

These Bible studies went on for several months, and soon they began meeting for early Sunday services. Rev. Howard Cross preached to them before returning to his own church in time for the later services. In due time, the group agreed to start a church. "We were toying with the idea of what kind of church we wanted to form," says Sharpe. Possibilities ranged from nondenominational to joining the Presbyterian Church in America. "The Lord brought us together from various churches," says Jolly, "and initially we weren't too excited about going back into a denomination."

As prayer and discussions continued, they got in touch with Dr. Kennedy Smartt, then serving the PCA as coordinator of evangelism for Mission to North America. He met with the group for several weeks, and in April 1983, the group agreed to organize and aspire to become part of the PCA. "Smartt was very skeptical about the diversity we had in the group, from all these different denominations," says Sharpe. "It was always a concern whether we were going to be able to work together or not. I remember one of our last meetings, he was praying for us and said, 'God, if it's not meant to happen, let it stop right now.' Well, it happened."

In December 1983, with sixty-five members, Grace Presbyterian Church became a part of the PCA. During the search for a full-time pastor, Smartt put the leaders of Grace in touch with Covenant College, and various faculty members were asked to fill the pulpit for Sunday services. These professors included Robert Nuermberger, Ray Dameron, Chuck Anderson, Henry Krabbendam, Paul Gilchrist, Roger Lambert, and Ray Clark, whom Jolly and Sharpe note as being especially influential to Grace. Professors also came midweek to lead Bible studies. "Covenant had a really strong influence on Grace," says Sharpe. "It got us off to a great start."

Among the early members of Grace was Norris Little, a third competitor in the carpet industry. "I had become concerned with the direction the PCUSA (Presbyterian Church in the United States of America) was headed," he recalls, "and one of my sons was already attending Grace. I of course knew Jim Jolly and Jack Sharpe, and felt more comfortable worshipping there, with a Reformed theology." Having found a church he could agree with, Little joined Jolly and Sharpe in devoting himself to the ministry of Grace.

Even after Grace's first pastor, Rev. Mark Cushman, was hired in 1985, the church maintained its relationship with Covenant. "We've always budgeted funds for Covenant College," says Sharpe, "right from the first official budget in 1984." Grace's contribution to Covenant's annual fund qualifies it for the Church Scholarship Promise program, which has financially benefitted a number of Covenant students coming from their congregation. For twenty-five years, the partnerships between Covenant, Grace, Jolly, Little and Sharpe have yielded wonderful fruit.

Jolly joined the Covenant College Foundation board and served three four-year terms on Covenant's board. "When I first got on the board," he remembers, "I just noticed early on we had so many students graduate with a large amount of debt. What happens is you get kids who really want to go into full time ministry or service, and those jobs don't pay as well as some secular jobs, and often they have to go into secular jobs if they have debt. So that's what my wife and I tailored our scholarships toward: to try to relieve and remove some of that debt." The result of their efforts and generosity is the Jolly Scholarship.

Little served on the Covenant College Foundation board until his retirement in June 2011. Among his contributions to the school is the Norris and Billie Little Faculty Endowment, which allows Covenant professors to "take some time off, to study, further their writing and go through a renewal process. Among other things, that's what we wanted to do for Covenant."

Sharpe also retired from the Foundation board in June. He also served two four-year terms as chairman of the finance committee on Covenant's board. Among his and his wife's contributions to the school is the Sharpe Diversity Scholarship, which benefits Covenant students who are the children of Latin immigrants. Along with Jolly and Little, Sharpe has also served on Dalton's committee for the Wilberforce Scholarship, which recognizes and supports students who demonstrate leadership in issues regarding biblical justice, particularly for the poor and oppressed.

"I've always been a very frugal person," says Sharpe. "It's God's money and I had to be careful where I spent it. I found that Covenant is a place where I can get two things for one; you get a good education and a good grounding in the Bible." For these men, Covenant represents an avenue by which they can contribute to the coming generations of thoughtful Christians. "Covenant is one of a few institutions of higher learning that have a Christ-centered focus," says Little. "Their motto, 'in all things Christ preeminent,' just strikes a chord with us. It would be difficult to find a more deserving cause in terms of colleges."