Unique Endowment Enables Service-oriented Students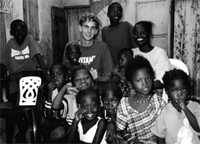 "I was speechless," recalls Covenant College senior Peter Brinkerhoff. His loss for words was the result to learning that an anonymous donor had paid his college loans in full. Peter was one of four student s selected to participate in the first year of Covenant's Loan Cancellation Scholarship established by a friend of the college to allow graduates to pursue lives of service or ministry unhindered by student debt.

Peter served for three months in Senegal, West Africa, last summer to fulfill his internship requirements as an economic development major, and he wants to continue to use his education to further Christ's kingdom among the world's poor after graduation. During his three-month internship he worked with the missionaries and nationals in Senegal. Living in a cinderblock compound in the village of Yarakh, Peter says he "learned a simpler way of life, how blessed I am as an American, and how incapable I am to accomplish my goals apart from Christ."

Slightly more than half of last year's Covenant graduates used student loans to pay for part of their education. Their average debt load was $15,196. Nationally, the average student debt for graduates of four-year private colleges is even greater - $17,250, according to the American Council on Education. For students considering careers in ministry, social service or education, repaying large student loans can postpone necessary graduate training or cause them to reconsider a worthy calling that may make repaying student loans very difficult.

"The scholarship opened doors of opportunity for me in ministry and missions. My loans would have been a hindrance to working in missions or development," Peter says.

Thanks to a generous and insightful donor, Peter looks forward to completing his senior year and quickly heading back overseas to work toward alleviating poverty in Jesus' name. He plans to intern with World Relief and Covenant's Chalmers Center in Rwanda after graduation.