Heritage Society
The Heritage Society honors those persons who recognize Covenant in their estate plans. Most often, estate gifts help build the College's endowment, which provides valuable resources for student scholarships, faculty, and facilities. No minimum required gift amounts are required to join, and the Heritage Society is a lifetime membership(unless the gift is later retracted).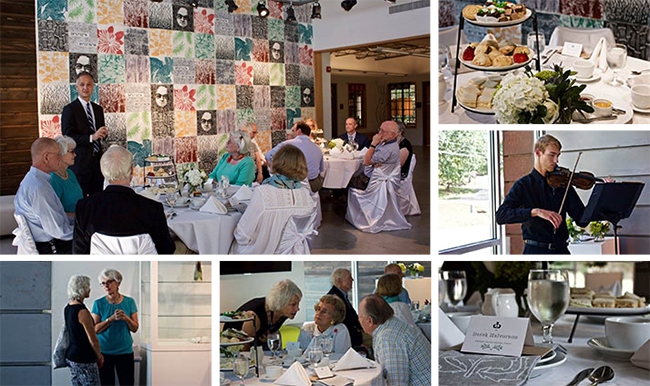 On September 16th, The Covenant College Foundation welcomed members of the Heritage Society to the Lucas Art Workshop for the first Heritage Society tea.

Attendees heard a College update from President Halvorson and also received an introduction to the Lucas Art Workshop from art Professor Jeff Morton.

Planned giving donors provide essential support to the College and The Heritage Society was established to recognize and thank those who have included Covenant in their estate planning.

You may view the entire album here.
BECOME A MEMBER
If you have provided for Covenant in a planned gift but have not yet informed the School, please
let us know
.
We are especially thankful for the following members of the Heritage Society. Each has named Covenant College or the Covenant College Foundation as a beneficiary in their will, defined retirement plan, trust, or life insurance policy.
Dr. Andrew Adam
Anonymous (+)
Anonymous
Susan Almy
James and Marie (Smith) Alston
Anonymous
Lowell Andreas (+)
Robert (+) and Julia Ashlock
Helen Austin (+)
L.B. and Linda Austin
Mr. and Mrs. Ted Aven
Robert (+) and Ann Avis
Thomas and Becky Bain
Clark ('86) and Carolyn Baker
John ('88) and Donna (Hokrein '89) Bates
Mr. Robert Beck
Bruce and Sandra Beers
Joel (62) and Carol (Jackson '71) Belz
Donald and Carolyn Bowman
Robert Bowman
Rich and Marta Bowser
William G. Bragdon
Arthur and Lois Broadwick
Frank and Dottie Brock
Anonymous
Ms. Linda F. Byerly
J. Render Caines and Linda J. Caines
Anonymous
Tom and Michael Ann Chapman
Richard and Shirley Chewning
Edmund (+) and Jean (+) Clowney
Karin Clumpner
Jim and Evie Conrad
Michael ('84) and Jennifer Cook
Anonymous
Jim Cox
Anonymous
Mr. and Mrs. C. Herbert Crews, Jr.
Phyllis Crooks '63
Bob and Laurie Curtis
Joanita Cutten ('57)(+)
Don and Mary Darling
Dr. Malinda Davenport-Crisp
Alice Davis ('62)
Rev. Dr. Robert and Kimberly Davis
Anonymous
Gregory and Kathy De Jong
John (+) and Florence DeBardeleben
Scott ('89) and Amy (Marshall '89) Dillon
Roberta (Stigers '68) Donaldson
Donald S. Donaldson (+)
E. Allen ('58(+) and Sharon Duble
Troy ('93) and Sarah (Howlett '97) Duble
E. Allen ('58) and Sharon Duble
David V. Edling
Dick (+) and Ruth (+) Ellingsworth
David and Konnie Erickson
Marc ('92) and Greta (Reiter '91) Erickson
Martin and Barbara Essenburg
Trip and Lisa Farmer
George ('72) and Sheryl (Cross '72) Farquhar
Mr. and Mrs. Bill and Susan Floyd
William and M. Faye ('92) Fron
Anonymous
Mr. Tommy and Mrs. Barby Gifford
Jennifer Gladwin
Mark and Susan Good
Thomas E. Gorab '76 and Robin B. Gorab '76
John ('81) and Tamara (Riley '81) Graham
Jim ('82) and Christy Grauley
John and Marjorie Grauley
Donna J. Griffith
Mark and Beth Griggs
Gary and Farole Haluska
Derek ('93) and Wendy Halvorson
Steve and Marni Halvorson
Dennis and Carol Hamilton
Nelson ('78) and Naomi Hard
Bradley and Kathleen Harris
Mark and Judy Harris
Doug and Neal Haskew
Theodore and Susan Anderson Hess
Paul Hesselink
Duncan and Debbie Highmark
L. Kim ('70) and Diane (Cross '72) Hight
Peter Hill and Cheryl V. Hill
Chris Hitchcock
James and Bonnie Hoekstra
Philip Howlett
Jeff and Nanci Hulting
Brent and Carrie Humpherys
Drew and Jane Jelgerhuis
Matthew (+) and Ruth Johnson
Jim and Mary Kaye Johnston
James and Judy Jolly
Thomas ('97) and Lori Kamp
Mr. and Mrs. David Kraay
Mike and Beth Kramer
Anonymous
Roger and Sarah Lambert
Roger and Sarah Lambert
Jay (+) and Pauline (+) Larsen
Herb and Susan ('77) Lea
Gary and Patricia Lindley
Norris and Billie Little
Anonymous (+)
Anonymous
David and Linda Lucas
Al and Julie Lutz
Jay and Lynn Lykins
Sean and Aimee Lynch
Tim Mahla ('07)
Anonymous (+)
John McElwee (+)
Zeb McMillan
Bob and Pat Monroe
Jerry and Linda Moore
Mrs. Lanny W. Moore, Sr.
Martin and Susan Moore
William Nash ('76)
Mr. and Mrs. Paul Nedelisky
Tom and Sue Neiles
Roy and Susan Nichols
Niel and Kathleen Nielson
Mrs. Priscilla Olson
Ralph (+) and Dottie Paden
Robert and Rebecca (Brewer '94) Painter
Mr. Nicholas Pappas ('05)
James (+) and Ann Patton
Stanley (+) and Mary Payne
William R. Payne
Larry and Ellen Perry
David P. Peterson
Vernon Pierce
Suzanne Plumly
Scott (+) and Betty Probasco
Bill and Melissa Quesenberry
Peter and Linda (Nielsen '77) Racen
Gary and Virginia Raffaele
Dr. and Mrs. Robert S. Rayburn
Dr. and Mrs. Harry L. Reeder III
Anonymous
Anonymous (+)
George and Jackie Robertson
Gordon ('74) and Karin (Stout '74) Robson
Buck ('80) and Eve (DeBardeleben '79) Roebuck
Anne Marie Rowe
Marshall ('87) and Suellen (Wilson '86) Rowe
Jeff and Sandra Sandhoff
Mr. and Mrs. Don and Pam Schlernitzauer
Collyn Schmidt
Jack and Dot Sharpe
Mitch (+) and Fran Simmons
Carolyn Sinclair '74
Gordon ('75) and Jennifer Sluis
Steve and Mary Smallman
Sam and Donna Smartt
Amy Smith
Addison and Roselynne Soltau
Gerry and Estes Stephens
Tom and Margaret Stewart
Arthur (+) and Alberta Stoll
Andrew and Elizabeth Strickenburg
Priscilla Strom ('72)
Bryce and Beth Sullivan
Mr. Spencer and Mrs. Frauna Swanson
Kathleen Thiessen
Anonymous
John and Laurie Truschel
Ken and Christy Van Stelle
Mr. Clarence E. Vos
Emmette and Janet (+) Waite
Rob and Patricia Watlington
Evan Weir
Dr. and Mrs. Perry Westerman
Anonymous
Joseph (+) and Joan White
Mrs. Carol Wildeman
Anonymous
Anonymous
Jon and Linda Wilkinson
Bruce Williams
R. Craig and Lisa B. Wood
Glenn Woodruff
Anonymous
Spencer (+) and Donne (+) Wright
Allen and Celia Wright
Spencer (+) and Donne Wright
Dan and Kristin Wykoff
Robert (+) and Dot (+) Yoder
Rev. Bruce D. L. Young
Bob (+) and Nellie den Dulk

(+) Denotes those who have deceased