Collyn Schmidt Adds to the Rudy and Collyn Schmidt Endowment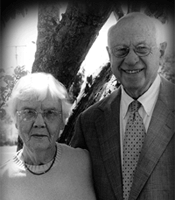 In May of 2006, with a mix of "sorrow and celebration," Executive Director Niel Neilson announced the establishment of the Rudy and Collyn Schmidt Endowed Scholarship. Many generous individuals have already contributed to the new endowment fund. In addition to memorial gifts received for the fund, Collyn and Rudy will also leave part of their estate to add to the new endowment.

By worldly standards, Rudy and Collyn are not wealthy. The creation of a trust, however, testifies to their life-long care for others and their love of Jesus. They knew by name and cared for thousands of students during their years at Covenant and their years following retirement. Added to the gifts that others have given to the Rudy and Collyn Schmidt endowment will be Rudy and Collyn's own bequest, which will become a living heritage for service from one generation to the next.

If you would like to honor "Uncle Rudy and Aunt Collyn," you can still make a current gift. Or, to make a larger deferred gift, you may also want to designate a portion of your 401-K retirement account (either a percent of fixed dollar amount) to the Rudy and Collyn Schmidt Endowment. The Schmidt's had a particular interest in the Christian nurture of minority youth, and in adding to this endowment, you will be perpetuating their caring interest. If you need assistance in knowing how to do this, do not hesitate to contact the Covenant College Foundation.