He Always Wanted to be Available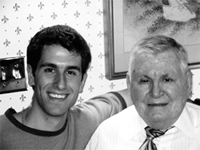 John McElwee has provided in his will for an endowment that establishes scholarships for "rascally students" who have come to know the Lord and have a heart for serving Him. To fully know and understand such a scholarship, you have to know and understand John McElwee, who has been "selling" since the age of ten and may be the most well-known Bible salesman in the world, having sold more than 45 million Bibles in more than forty countries. John is described by Wim Codington, a 2004 Covenant alumnus and a Nashville accountant with Ernst and Young, as "one of the most generous guys I know." John McElwee came to know Wim through Wim's dad, who as a Christian Bookstore owner bought Bibles from John 20 years ago. Wim says that John takes young men under his wing. Wim describes John as having "conservative values" (doesn't care for piercings, tattoos, sloppiness, bare midriffs, or poor work habits) while staying young at heart and being more comfortable with young people than people his own age. Wim says that John's values don't come across as judgmental, which has enabled John to help a lot of young men and women settle down and do well. All of this comes from a man "who loves Jesus so much and shares Jesus wherever he goes."

John is an elder at Covenant Presbyterian Church in Nashville. In addition to the normal duties of an elder, John doesn't let his seventyish age stop him from handing out bulletins, being an active member of the prayer chain, or taking a young person out for lunch.

John could easily play the role of a "staid" elder, but this is not how he sees himself, even though he is a direct descendent of Francis Makemie, an Irish immigrant who in ordaining the first pastor founded the American Presbyterian Church.

As a single man with no children, and at the recommendation of John's attorney, John expects to save his heirs more than $50,000 in taxes by leaving his IRA to Covenant, supplemented by proceeds from the sale of his house, to create a generous endowment. John is a great example of someone who has always been a good steward of what God entrusted to him. His stewardship will benefit others for generations to come.