Harris Foundation Gives $1 Million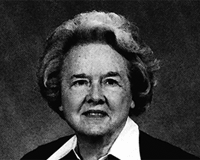 Jane Harris, a long-time Lookout Mountain resident, loved the Lord, loved her church and loved Covenant College. Jane and her husband, Will, established a foundation that was not fully funded until Jane's death in 2004. The Will and Jane Harris Foundation gave a one million dollar unrestricted gift to the College, which the Covenant College board of trustees designated for endowment in honor of Jane Harris. The immediate use of the gift was to go toward faculty salaries.

Jane knew many of the Covenant faculty members, and she saw firsthand their competence and dedication. The gift recognizes Jane's desire to help teachers who pour their lives into others and shape young minds. The trustees of the foundation stipulated that the funds generated by the endowment should supplement the salaries that the College is able to provide.

Executive Director Niel Nielson said of the gift: "We are exceedingly grateful for the generosity of the Will and Jane Harris Foundation. The foundation's gift to Covenant will greatly assist the College in funding the salaries of our exceptional faculty, who dedicate their lives to equipping students to be effective servant-leaders for the sake of the kingdom in all corners of society."

Jane was careful with her money but generous when giving to promote the cause of Christ. She usually gave discretely, even when it was hard to do so, such as giving cushions for the wooden pews at Lookout Mountain Presbyterian Church. ("They are just not comfortable," she said.) Will and Jane had no children of their own, but they often gave to ministries that directly benefit young people (Lookout Mountain Christian School, Covenant College, Inner City Ministries, King College, Prison and Prevention Ministries, Samaritan's Purse, and Teen Challenge). As a testimony to Jane's love of her church and especially the youth program, the Jane Harris Youth Building is being dedicated at Lookout Mountain Presbyterian Church this September, another gift of her foundation. The Harris Foundation also established a faculty endowment at Lookout Mountain Christian School.

Jane was known as a Southern belle, gracious in manners and appearance. She knew how to share her love for Christ, and she would often get others involved in activities that did not appear attractive at first. But Jane had such discernment and enthusiasm that, once involved, others were glad that Jane had gotten them involved. She has left an enduring heritage.