Dean's Scholarships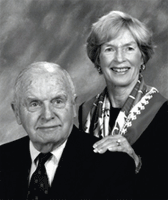 Rising to a $50,000 challenge from the Wright Bentley Foundation, the trustees of the Covenant College Foundation have pledged matching funds to provide a special scholarship for working students. The size of this scholarship is equivalent to the income from a $2 million endowment, and in recognition, Covenant College has designated the scholarship as the "Dean's Scholarship" to acknowledge the accomplishments of students who receive the award.

Spencer and Donne Wright created the Wright Bentley Foudation to aid exceptional students who work to pay for part of their college education. Covenant College was among the first to receive the scholarship funds. The Wrights have long had an interest in education and have had opportunities to meet and observe Covenant students, faculty and staff. They want to help students who will "make a difference" in the world. To continue to receive the four-year scholarship, Covenant requires that students must maintain a 3.0 grade point average and demonstrate leadership around campus and in the community.

In the current year (2004-05), 30 students are receiving the "Dean's Scholarship." This year's students come from 14 states and 2 foreign countries, and have an average grade point average of 3.63. Career plans and majors vary widely but one thing the students all seem to have in common is their willingness to work to attain a good education. Typical is Joshua Desch, a junior who worked this past summer as a youth intern at his church. He also helped pay for Covenant by the sweat of his brow while doing landscaping on the side. Most of the students do work-study at Covenant during the school year.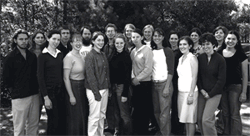 The Wright Bentley scholarships were first initiated in 1994 with a $20,000 matching gift and $15,000 outright. During the past ten years, Covenant has received $273,900 from the Wright Bentley Foundation. The continued growth of the award reflects increasing confidence in the students from all over the country who are attracted by Covenant College's rigorous education and motto, "In all things Christ preeminent."

Mr. Wright founded Spencer Wright Industries, a multi-national corporation. The Cobble subsidiary manufactures tufting machinery and parts, which are used to produce carpet and rugs. He has served on the boards of several public corporations including the Singer Co., AmSouth Bancorporation, and First Financial Corporation. In addition he has served as Chairman of Tennessee Independent Colleges, the Metropolitan YMCA, Memorial Hospital and as an officer and/or board member of many local organizations such as the United Way, Red Cross, U.C. Foundation, Chamber of Commerce and Rotary. Mr. Wright is a graduate of the University of Maryland where he was a three-year starter for the basketball team.